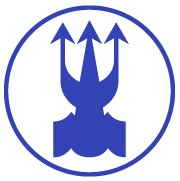 • SIGMUND PUMPS •
Miroslav Sigmund moved to England in 1938, to produce mobile fire-fighting pumps which the British government planned to have in reserve in case of war - within 30 days Sigmund had built a factory on the Team Valley Trading estate in Gateshead. By August 1939 Sigmund Pumps (Great Britain) Ltd numbered 420 employees and 3,000 fire pumps had been delivered to fire brigades to prepare them for the coming war. By 1945 the company, was employing more than 2,000 personnel, and had produced thousands of fire pumps, and diversified into producing other parts for the war effort. In 1954, Sigmund formed a separate company, International Boilers and Radiators, and introduced the new Thermopak pump and slim-line pressed steel radiators to meet the growing demand for domestic central heating systems. Thousands of Green Goddess fire engines built between 1952 and 1964 were fitted with Sigmund pumps. The company developed a comprehensive range of pump products and expanded into the Petrochemical industry - in 1958 Sigmund pumps was acquired by the Booker organisation.....
| | |
| --- | --- |
| | |
| Sigmund Pumps early brochure | Sigmund Pumps 1960 brochure |
| | |
| Sigmund Pumps Sigma types S range | Sigmund Pumps type NZ 1962 brochure |
• SIGMUND PULSOMETER PUMPS •
In 1961 Sigmund Pumps of Gateshead joined Pulsometer Engineering, Reading making one of the largest pump companies in Europe, the combined company, with factories in Gateshead and Reading, was named Sigmund Pulsometer Pumps, and branded as SPP for short.
| | |
| --- | --- |
| | |
| SPP Thermopak brochure c1965 | SPP Thermopak A1 brochure c1965 |
| | |
| SPP Heatpak brochure c1966 | SPP type FK end-suction pump brochure c1966 |
• SIGMUND PULSOMETER PUMPS GATESHEAD - 1966 APPRENTICE AWARDS •
On Saturday 26 November Managing Director Leslie Davis presented the 'Apprentice of the Year Awards' to the SPP Gateshead apprentices. Apprentice of the year was Ronnie Palgrave (centre) - Final year apprentice winner was Raymond Burn (fourth from right) and fourth year apprentice winner was Richard (Rick) Kilday (fifth from right). Training supervisor Gordon Kirtley is far left - there was a total of 108 apprentices at the Sigmund Pulsometer Pumps Gateshead facory at the time.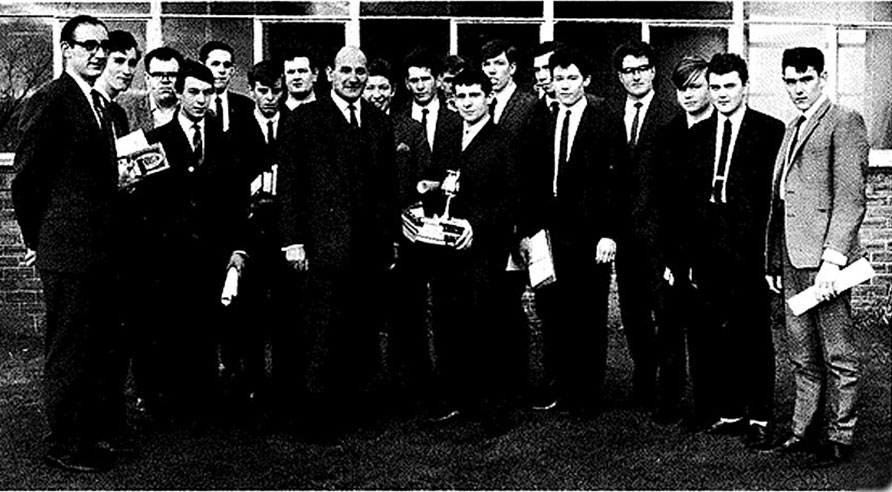 • SIGMUND PULSOMETER PUMPS GATESHEAD - 1967 APPRENTICE AWARDS •
At Sigmund Pulsomer Pumps Gateshead, over 200 people saw Richard (Rick) Kilday receive the 1967 'Apprentice of the Year Award' from Mr D Adamson. Richard was to join the staff at SPP Leamington Spa office as Technical Representative. Brian Gray (2nd left, below) received the Student Apprentice award.
SPP Gateshead - 1967 Apprentice Awards
Richard Kilday Apprentice of the Year

Richard Kilday (right) - 1967 Apprentice of the Year
with Mr D Adamson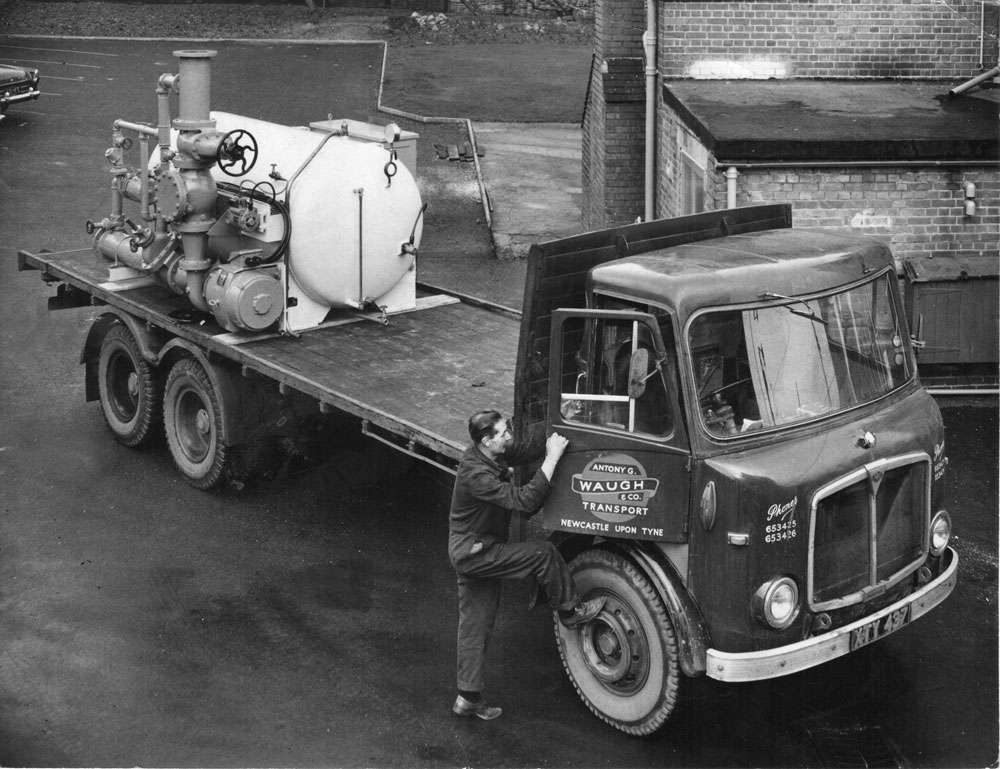 Packaged Hydro-pneumatic booster set - SPP c1965
© Copyright: 1994, Fluid Automation Ltd. All rights reserved.
Website by Rich Web Designs